Edgefinity is an Internet of Things (IoT) platform that is designed to act both as the central nervous system of an organization's productivity, safety and security systems and a highly effective item and asset management system, automating the supply chain, and keeping track of utilization rates of key equipment. Out of the box, Edgefinity IoT includes the capability to track items, assets, personnel, and vehicles using easy to define rules that enable the organization to add visibility to production processes, measure productivity, and follow (and document) company Emergency Action Plan (EAP) protocols.
Edgefinity IoT Productivity benefits include:
Improved visibility of items, assets, and people across multiple facilities.
Meeting and documenting compliance with mandates of customers and government.
Reduced theft on-site and in transit.
Streamlined business processes.
Reduced labor cost and human error
Improved asset utilization
Lower equipment and inventory costs by reducing safety margin purchases
Edgefinity IoT Safety and Security benefits include intelligent alert handling to support multiple emergency scenarios and help manage the following requirements:
Panic button monitoring
Threats and hazards sensing
Automate protective actions
Notification, warning, and communications capabilities
Emergency response and accountability procedures
Means for locating staff members in an emergency
Presence assurance of emergency equipment
Emergency shutdown procedures
Edgefinity IoT is designed to handle the varied special requirements of warehouse tracking, asset management and safety and security applications on a single unified platform. The solution takes advantage of current state of the art technologies in Auto-ID systems, hardware, communications, and software.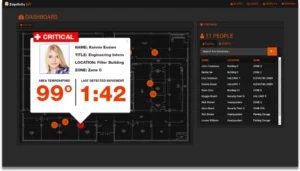 This hardware agnostic system design allows for future incorporation of technical advances in:
RFID (Radio Frequency Identification)
RTLS (Real Time Location System)
GPS (Global Positioning System)
BLE (Bluetooth Low Energy)
IoT (Internet of Things)
Mesh networking
Software (cloud and mobile)
This rule-based solution is architected to support a growing array of inputs and actions. It's open-ended design allows for choosing among many different hardware combinations to best fit the application requirements. It is an expert system that enables managers to be confident that production, operational, safety and security procedures they themselves specify are always followed. Edgefinity IoT ensures that orders aren't missing items, assets can be found instantly; workers, contractors, and visitors can be located reliably, and quickly, in an emergency; and that incidents of different types can be responded to and documented appropriately, while minimizing false, and irrelevant, alarms and notifications.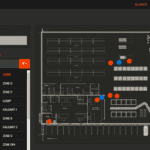 Designed from the ground up as a future proof system, the software components of the system utilize state of the art application and database security protocols to ensure performance that cannot be compromised.
In short, Edgefinity IoT offers an integrated solution for the following pressing issues:
Operational Efficiency
Supply Chain Compliance
Asset Visibility
Loss Prevention
Risk Management
Edgefinity IoT is a fully abstracted Internet of Things (IoT) platform that is engineered with the following features:
Shrink wrapped and "self-defining". This translates into faster deployment and easy to maintain code.
Fully rules driven with intuitive "drag and drop" interface. This allows the sensing of virtually any type of event, which then triggers any number of desired actions.
Exceptionally user friendly, elegant and intuitive graphical user interface.
Support for passive RFID, BAP (Battery Assisted Passive RFID), active RFID, and RTLS, as well as future sensing technologies.
Native support for fixed and mobile readers.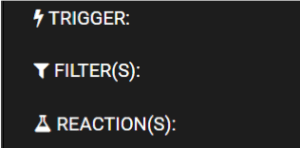 The strength of Edgefinity IoT is in how the user can take advantage of both the low cost of passive RFID, and the precision of the latest RTLS technology and sensory capabilities of advanced Active RFID tags through an easy to use, yet extremely powerful rules engine that allows the user to define inputs (Triggers) and outputs (Reactions) to manage physical safety and security problems.
The growing list of possible triggers include:
Entering or leaving a defined area (geofencing)
Asset movement
Dwell time in a defined area
Panic button press
Fall detection with accelerometer
Temperature changes
Loss of signal
Low battery
Tampering in an attempt to bypass protection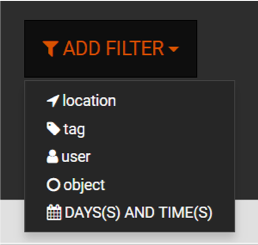 If the condition triggers are met and none of the filters (Day, Time, User Group) suppress the rule, reactions can include one or more of the following:
Send text message
Send email
Call a phone number with a prerecorded voice message
Send a message over TCP
Change the state of a relay over IP (for instance to control equipment)
Blink tag LED
Increase framerate of captured video
Display dialogue/checklist for operators via PC, Tablet or Smartphone
Pop a message onto staff PC screens
Flash a strobe light
Sound an audible alarm
Lock/Unlock doors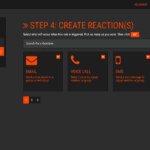 Edgefinity IoT contains all the necessary elements to provide a holistic inventory and asset tracking, security and safety net to all types of large organizations – particularly multinational corporations and government utilities.
No matter which Auto-ID technology is chosen for your needs – Passive RFID, Active RFID, Bluetooth Low Energy beacons, Mesh networking or an UWB (Ultra Wideband)RTLS (real time location system), Edgefinity IoT keeps you in the know by combining multi-sensor capabilities to give you a complete picture of your entire enterprise. From any web browser, managers always have a live, real-time view of item flow, asset location, and any employee alert situation.
Edgefinity IoT is deployed with state-of-the-art hardware – tags, infrastructure, and endpoints, both fixed and mobile, to deliver up-to-the-second information on any person, vehicle, asset or work-in-process.
Edgefinity IoT provides the full range of features needed for managing EPC (Electronic Product Code) compliance mandates, printing, reading and validating RFID tags, and management reporting. Edgefinity IoT offers true insight —  real-time tracking of items in inventory, assets, and employees.
Edgefinity IoT performs the following functions:
Items
Inbound (receiving) and outbound (shipping) validation for EPC compliance.
User defined multilevel GTIN product hierarchies
Order level commissioning
Optimized filtering and smoothing of RFID data.
Application pallet/case order validation.
Assets
Track inventory and assets in throughout your warehouse in real-time
Monitor WIP (Work in Process) assets in real-time
People
Track people throughout your facility in real-time
Panic button
Fall detection
Impact detection
Lack of movement
Loss of signal
Mustering and evacuation
Labor reporting
Low battery
User Defined Rules
"Having migrated from IBM Domino to Microsoft Office 360 (Business Cloud), we are delighted with the results – and have 1000 happy internal customers who much prefer Outlook to Domino. Life IT were flexible, fair and supportive when schedules had to change due to other Gurit projects.  We had direct access to engineers and technical staff and a dedicated team who were easy to work with.  The whole project was done in a very friendly environment and I would definitely recommend Life IT for these sorts of migration projects."
Henrikki Häkkänen,
Global IT Services Manager — Gurit Services AG
"Without the professional and expert support of Life IT, we wouldn't have had the quality product we now have. They gently but insistently pushed the boundaries of our assumptions during the analysis phase, getting us to challenge our mind-sets and think outside the box. They then worked seamlessly as part of our team and delivered to time and to budget – no mean feat".
James Hacking
Head of Technical Services—HCSS
"As we'd already invested significantly in Lotus Notes and Domino, a solution that built on our existing investment and skills was ideal. Life IT understood what was important to us and delivered a solution that met our needs. We've already seen the number of 'distress calls' to the sales office reduce as our sales managers can easily access customer data off line wherever they are and we've had positive feedback all round about the ability to update their call reports instantly on the road."
Colin Mosley
Head of IT—Polyflor
"The Life IT solution has provided us with a significant reduction in support and maintenance costs and is an easy to use, more resilient and more easily maintainable system. As a business that handles thousands of transactions a day from 12 different own brand or white label websites it was vital that the whole process was seamless and, with the renewal of the support and maintenance contract from our existing supplier looming, it was also vital that the project came in on deadline. Life IT achieved this and more as they provided us with additional MI functionality and supported our staff whilst transferring their skills.'
Andrew Kirkham
Head of IT Development—DLR
"Life IT are doing a great job providing a very professional and efficient service. They are almost silently efficient and just get things done – only escalating issues when necessary. Their expertise in the AS400 is a key strength ensuring a real depth to their service and they keep us up to date with advances in technology too. So from an AS400 perspective I have very little to worry about."
John Geary
IT Service Delivery Manager
"After the restructure I was left with a critical resource gap which quickly needed filling, having worked with Life IT before I gave them a call. Their response was swift and efficient. They now work as a virtual Center Parcs help desk team providing a strength and depth of support. Their flexible working based on a time bank system is real value for money. So not only do I get an expert and efficient service, I have reduced my resource costs!"
Kerry Moakes
Head of IT—Center Parcs
"We wanted flexible support to ensure 24/7 cover and Life IT worked with us to deliver this. Life IT has become integrated into the Bentley way of working and their role has expanded into looking at the technical side of the application as well as the support. "Our relationship has been built up over a significant period of time and both sides have worked hard to develop a supplier/customer relationship that can be used as a model throughout Bentley. We are now in the position where we have a pro-active partnership, Life IT are treated as part of Bentley, and that is a credit to them".
Chris Sayers
Senior IS Manager—Bentley Motors